Disclaimer: Healing from addiction can be an incredibly spiritual experience. There are a variety of resources available to help individuals on their journey to recovery, each of which may be used in a unique and personalized way. Everyone's path to sobriety and healing is different, and the following provides just one perspective.
God has the power to rescue you from addiction. As Corinthians 10:13 reads ""No temptation has overtaken you that is not common to man. God is faithful, and he will not let you be tempted beyond your ability, but with the temptation he will also provide the way of escape, that you may be able to endure it."
You might see Him working through talented counselors, therapists, and doctors, or a divine intervention (miracle!). In any case, you don't have to walk the journey alone. You can use this knowledge to bolster your faith and your recovery efforts. But you need to know where to start.
You and your care team may decide on going to rehab. You can go to a Christian rehab to receive faith and science-backed recovery opportunities. 
Understanding Addiction
Addiction is a complex disease that could affect anyone, regardless of their background, religion, economic status, or gender. Addiction can even change the way your brain works1. That's why stopping can feel like such a monumental feat—even with God at your side.
Stopping substance use can also make you sick, which may only reinforce your need for more drugs, alcohol, or medications. Depending on your unique situation, you may need to detox in a medical facility (or a residential rehab with detox) for your safety. Here, doctors monitor your symptoms and can prescribe comfort medications for withdrawal symptoms. 
Process addictions impact your brain2 in the same way, too. Though you won't get physical withdrawal if you stop watching porn or spending too much money, it can cause a lot of emotional distress and grief. As with substance addictions, behavioral addictions can also separate you from your family, loved ones, and God.
Addiction affects your mind, body, and spirit. That's why treatment must, in turn, reach your mind, body, and spirit. For some, the spiritual component can feel crucial. 
The Role of Faith And Spirituality in Recovery
If you're a believer, incorporating your faith into recovery could be the key for your success. Connecting to God and learning more about who you are in Him can give you the encouragement, hope, and strength to recover.
Finding Unwavering Faith
With God's help, you can grow your faith as you rely on Him for delivery. As with all trials of this world, including addiction, God promises to see us through. Sometimes, you won't be able to go back to the life you lived before addiction. But that's okay. A new start might be exactly what God intends. 
Holding fast to truths like this can offer encouragement. God doesn't promise an easy life. He also doesn't promise to answer prayers. But He does promise to work all things for your good. Look at these verses:
"And we know that for those who love God all things work together for good, for those who are called according to his purpose." Romans 8:28
"For I know the plans I have for you, declares the Lord, plans for welfare and not for evil, to give you a future and a hope." Jeremiah 29:11
These promises can strengthen your faith—whether you've just started your recovery journey or have years of sobriety under your belt.
Leaning on God's Strength
Limitless strength through God can help you throughout your recovery journey. It's not always easy to feel strong, though. Especially if you've relapsed—again or for the first time—or unintentionally hurt someone you love because of your addiction. In these difficult moments, you can look back at God's word (and your own life) to see examples of His strength and mercy. 
And remember, your strength doesn't have to come from you. So, part of your recovery journey could include admitting you need help. Then, you can ask God for strength and take comfort in sharing your yolk with someone who can endlessly bear it. 
Many verses from the Bible3 talk about strength—it's something we've needed for decades. Here's one from Philippians:
"I know how to be brought low, and I know how to abound. In any and every circumstance, I have learned the secret of facing plenty and hunger, abundance and need. I can do all things through him who strengthens me." Philippians 4: 12-13
And from Isaiah,
"He gives power to the weak and strength to the powerless." Isaiah 40:29
Alone, these verses and truths may not help you much. True change and joy often takes prayer, meditation on these truths, and voicing your struggles to others.
Seeking Divine Intervention And Guidance
Your first step in seeking God may already sit on your shelf: your Bible. But having one doesn't mean you'll automatically know how to find the passages you need—it's a big book! So, you can connect with a member of your church, your pastor, an elder, or a Biblical counselor to help you use your Bible well.
You can also use Bible studies on addiction and recovery. YouVersion has dozens of free Bible studies on a variety of addictions, including pornography.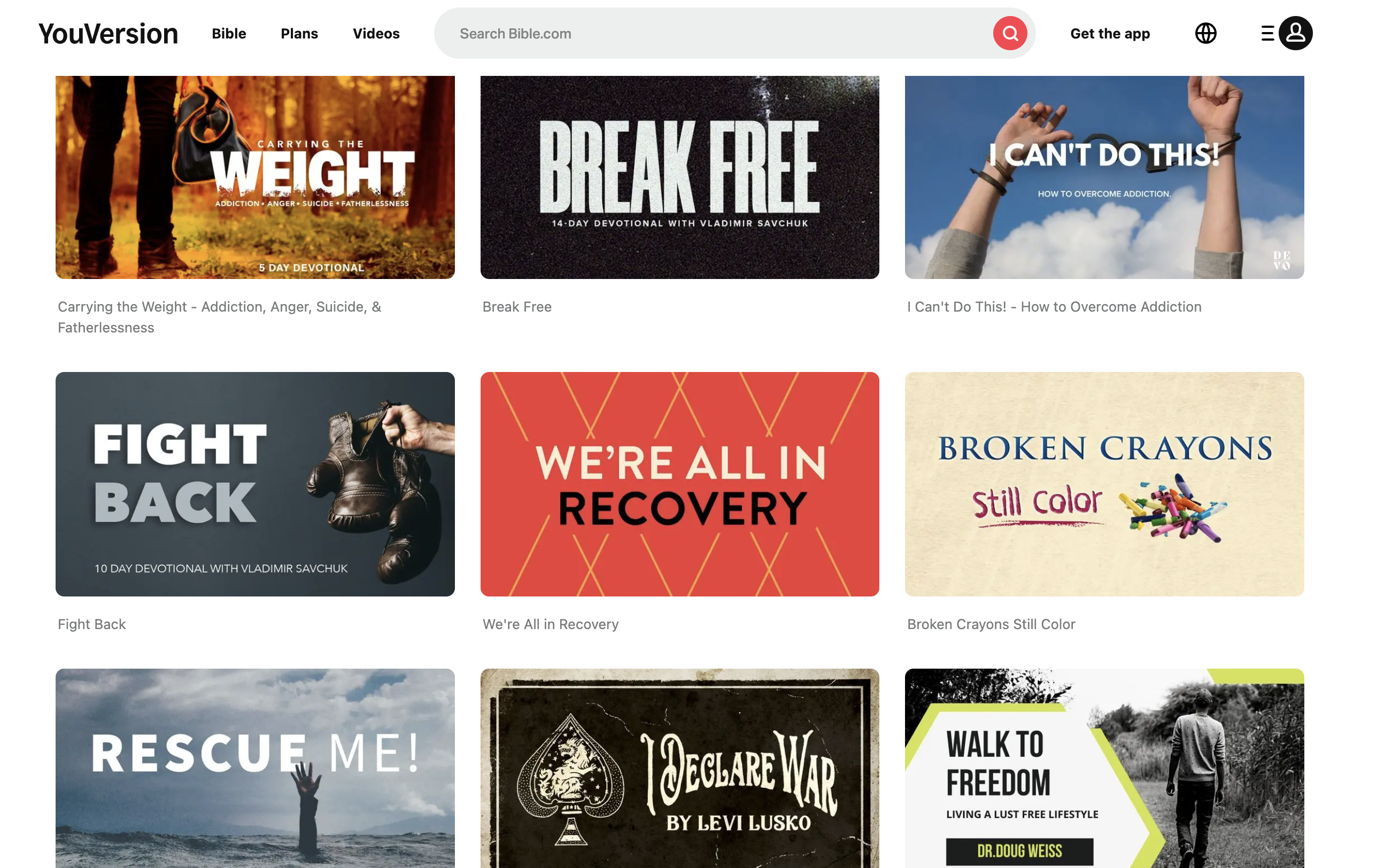 Many Christian authors have also covered the topic of addiction and recovery. Redemption House lists books about addiction, shame, recovery, and how you can rediscover hope. 
You can listen to resources on addiction, too. Plenty of podcasts discuss addiction in Christians, how they've healed, and their own personal stories with recovery. You can see a non-exhaustive list here. 
Finding Support in Religious Communities
Your church might have resources and advice for addiction recovery. You can also ask your pastor, elders, or someone else on your church's team for advice and direction. Even if they don't know how to help you right away, you at least won't be alone as you look. 
You can also use the internet to find faith-based support groups. Celebrate Recovery has peer support meetings available around the world. Some 12-Step meetings identify God as the Higher Power mentioned in the Steps—or, you can make God your Higher Power. You decide which direction to go. Here's a few other steps you can take:
Reach out to religious leaders in your local area. They can provide advice and support or connect you with people in the community who can.
Attend religious services or events at local places of worship. This can be a great way to meet people and make connections.
Join an online forum or chatroom related to your religion. Here, you can find support from people who have similar beliefs.
Use services offered by your local church or other religious organizations. These may include counseling, support groups, or other resources that can provide support.
Research organizations or charities that focus on providing spiritual support. These may offer programs, events, or other services that can provide support.
Developing a Spiritual Practice
You can create your own spiritual practice of recovery through Bible studies, prayers, and meditation. Try crafting one or more prayers for your recovery journey, either alone or with someone who can offer guidance. 
For example, you might come up with a prayer to combat the flashbacks that once prompted you to drink. Rather than forcing down the thought or feeling, you redirect it into a prayer to God. And if you've told people about your struggles, you can text or call them and have them start praying for you, too. Here's some other examples:
Start your day with prayer: Take a few moments each morning to thank God for the gift of a new day and ask for His guidance throughout the day.
Read the Bible: Spend some time each day reading the Bible. You can work through a Bible study, go chronologically, or pick a book in the Bible to dissect and apply to your life.  
Memorize scripture: Commit one or 2 Bible verses to memory each day, or choose a life verse for your recovery journey and memorize it. 
Journal: Take some time to write down your thoughts and reflections on your spiritual journey.
Attend church: Make it a priority to attend church services regularly and participate in church activities, like small groups and Bible studies.
Practice acts of service: Take time to practice acts of service to others, such as volunteering in your community or helping a friend in need.
Reflect on how you can live out your faith: Spend some time each day reflecting on how you can live out your faith in your daily life.
Spend time in nature: Take time to appreciate the beauty of God's creation.
Give thanks: Take some time each day to thank God for all his blessings.
Connect With Others
You can also start going to small groups at your church. These connect you to others at your church and may provide a space that feels safe to share. And, going to these groups keeps you continually connected to God's Word, your church, and your hope in Christ.
Serving can keep you busy and productive, all while helping others. Your church likely has plenty of volunteer opportunities available, either within your church (like nursery, coffee, and decorating) or with outside organizations, like college ministries.  
But sometimes, you need more than the help of your church and the people in it. And while prayer, Bible study, and meditation can strengthen and sustain your recovery, you may need professional help to heal efficiently.
Integrating Professional Help And Treatment
Faith-based and evidence-based treatments can, and do, mix. You don't have to sacrifice either one to see results. 
Many, if not all, therapists and counselors accept and welcome people of all religions and backgrounds. They'll respect your preferences and beliefs, even if it means you don't always agree with their counsel. Working with a licensed therapist connects you to evidence-based therapies like cognitive behavioral therapy (CBT), dialectical behavioral therapy (DBT), and trauma-informed therapies. 
These therapies can change the thoughts leading to addiction, strengthen your morale, and give you added hope in a dark time. 
Medical Treatment for Addiction
Withdrawing from substances like alcohol and benzodiazepines present significant detox dangers. That's why it's usually best to detox in a medical facility or a residential rehab with detox. The doctors and other professionals there may prescribe medications to help with your withdrawal symptoms and keep you safe.
A multidisciplinary treatment team can help you find, and keep, your recovery. Your faith will only bolster it. 
Discover Your Hope Everlasting
Your addiction likely won't go away after a prayer or 2—if it did, recovery wouldn't be a life-long journey. But keeping your eyes on God, meditating on His promises, connecting with others in your faith, and seeking professional help can all make your recovery journey fruitful. 
You can browse our collection of faith-based Christian rehabs to see photos, pricing, reviews, and more.