Horses have stood side-by-side with humans for centuries. And now, we're working with horses to treat addiction and mental illness.
Equine assisted psychotherapy (EAP), also known as equine assisted therapy (EAT) or simply equine therapy, is a rapidly growing form of addiction recovery. It involves using horses to achieve therapeutic goals as designed by a health professional, the benefits of which include improved motor skills, sensory processing, and better social interaction.
Here's what you need to know about equine therapy, and why it's an effective way to treat those challenged by addiction and mental health issues.
What Is Equine-Assisted Psychotherapy?
Equine assisted psychotherapy is a highly specialized form of therapy that uses horses to help treat those suffering from trauma and addiction. Founded at the Sierra Tucson treatment center in Arizona, equine therapy has now been introduced in North America, in the U.K. and across much of Europe, and for good reason. Don Lavender, Programme Director at Camino Recovery, explains:
"It's become a really effective therapy. We are working with addicts to teach how to work with personal boundaries and the boundaries of the self and others, as well as some healing. It's therapeutic for the human because they get to learn connection with others. If they're isolated and they're using drugs, they will learn how to replace that with connection."
Get a peek into equine therapy with Don Lavender from our visit to Spain.
Equine therapy takes an activity-based approach to healing to promote personal growth, responsibility and positivity. It's designed to break down the barriers that prevent positive communication and encourage healthy interactions, first with the horse, and then with those around us.
How Does Equine-Assisted Psychotherapy Work?
The common misconception about equine assisted psychotherapy is that it involves horseback riding. In actuality, there is no riding of horses involved in this form of treatment. Instead, equine therapy is about groundwork. It's about learning how to speak the language of the horse and build a connection with it through a series of ground-based activities.
One example is lunging. In short, lunging is getting the horse to move around the pen with you. You can pull on a horse's rope and drag it around the pen next to you, or you can develop a "join up" and walk in unison with the horse at its own free will. It's the latter that you want to achieve, but to do this requires the patient to understand, read and tend to the horse's emotions.
A big reason why equine assisted psychotherapy is so effective is that the horse emulates a non-judgmental, open and entirely honest human being. They are a "divine mirror" to human emotion and give a patient the ability to understand how certain actions and behaviors affect those around them.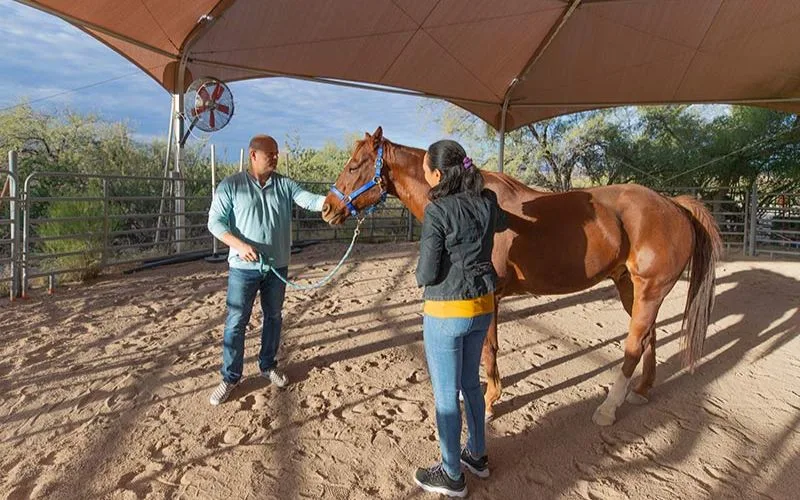 What Are the Benefits of Equine Therapy?
Oftentimes, those suffering from addiction, trauma and mental health issues suffer in silence. It's not a matter of having no support around you, but rather, it's about failing to open up and validate hardship.
Working with horses, then, breaks down these barriers to effective communication and healing. It helps people adjust their perceptions and focus on attending to the needs of something other than themselves, and consequently, it builds a bond of trust and support.
When it comes to horses, we consider them to be non-judgmental creatures. As Don explains:
"Horses are perfect animals to do this, because every cell of their being is to join up and connect."
And that's what using equine therapy in treatment is all about. It's about togetherness and understanding the needs and requirements of other people, it's about building confidence and self-esteem, and it's about improving both verbal and non-verbal methods of communication.
Healing Through Experience
Psychotherapy is often dubbed "talking therapy." In the media, it's depicted as a person lying on a sofa explaining their problems to a therapist and the therapist asking, "how does that make you feel?" And for many, this is an effective way of treating addictions and trauma, but treatment shouldn't be limited to verbal communication.
Equine-assisted psychotherapy is a non-verbal method of therapy that uses experiential principles1 to encourage positive behavior. To accomplish simple tasks, a patient must first learn and understand "the language of the horse" and build a connection through non-verbal communication methods like body language.
From there, they can begin to understand how their communication approach affects the horse and learn how to improve on it, working to better understand themselves—it's the understanding of one's self that's the ultimate goal to better recovery.
Find out more about the best treatment centers offering equine therapy.
---
Frequently Asked Questions
What is equine-assisted psychotherapy?
Equine-assisted psychotherapy is a therapeutic approach that involves interacting with horses as a means of promoting emotional growth and healing.
What conditions can be treated with equine-assisted psychotherapy?
Equine-assisted psychotherapy can be effective for treating a variety of mental health and behavioral issues, including anxiety, depression, PTSD, addiction, and relationship problems.
What should I look for in an equine-assisted psychotherapy program?
When choosing an equine-assisted therapy program, look for a reputable rehab with certified therapists, trained horses, and comprehensive surrounding support.