You've heard of the seven wonders of the world—but the state of Oregon is home to its own seven wonders. From rocky Pacific beaches to the colorful, desert dunes of the Painted Hills, Oregon is home to one of the most diverse landscapes in the country. But people don't just travel to Oregon for its natural beauty. Many come to heal.
People struggling with addiction come to Oregon for many reasons. Some are drawn to the state's variety of outdoor activities, which include rock climbing, white water rafting, skiing, hiking, and more. Others come because Oregon rehabs are known for serving patients with dual diagnoses, including mental health disorders and trauma. But whether they come seeking trauma-informed care or natural wonders, people who choose Oregon rehabs soon discover that this state, known for its laidback and compassionate culture, is a safe place to embrace recovery and start their healing journey.
Discovering Oregon's Wonders
You can find virtually any landscape in Oregon, whether you prefer the beach, the mountains, the desert, or something in between. The Cascade Mountains create a stunning backdrop of white-capped peaks on the western side of the state. Beyond their scenic beauty, these mountains offer hiking, biking, and skiing opportunities—a huge benefit for patients who are looking to explore the ways that exercise can improve their mental health.1
Oregon is also known for its old-growth forests, where trees can grow hundreds of feet tall—in fact, many of the tallest and oldest trees in North America are located in Oregon. Oregon's woods offer a serene and calming space to connect with nature. The forest also has healing benefits.2 Many studies have shown that forest bathing, or intentionally surrounding yourself with the sights, sounds, and smells of the woods, can reduce symptoms of depression and improve overall mental well-being.
Oregon even offers treatment facility options for those who prefer a drier climate. The state's eastern side is a well-kept secret, with beautiful dunes, rocky caverns, and vast rolling hills, many featuring wild horses. Unlike the western side of the state, which is famous for its temperate, rainy climate, on the eastern side of Oregon, the days are hot, the nights are cold, and it's not uncommon to wake up to snow in the winter months.
No matter what region you choose, the dramatic landscapes of Oregon have a mythic beauty that inspires residents to explore, be curious, and connect with nature. Whether you are looking for a peaceful retreat among the mossy cedars, or hoping to invest time into your physical fitness, Oregon's luxury rehabs can support your treatment goals.
Finding Acceptance
Oregon's culture is as unique as each of its residents. The people of Oregon are known for being quirky,3 which also makes the state a welcoming and friendly environment for people from all walks of life. Particularly in cities like Portland and Eugene, Oregonians are committed to social justice, and the culture is often centered around acceptance and equality.
Oregon's open-minded culture is also reflected in its treatment opportunities. The state is home to many meditation retreats and communities, and mindfulness plays an important role at many Oregon rehabs. Many treatment centers offer yoga classes, guided meditation programs, and other therapies that encourage the mind-body connection. SLO Recovery Center, a specialized dual-diagnosis rehab located in Portland, offers yoga, acupuncture, and mindfulness meditation classes, as well as nutrition education and other holistic support.
Similarly, Awakenings by the Sea in Seaside, Oregon provides patients with recovery-friendly yoga classes4 from a trained instructor:
"Yoga helps to heal aches and pains, which are associated with substance use. Yoga also helps with relaxation; you will feel more at ease, expanding breath, flexibility, strength, endurance and helps with better posture."
Rehab is an opportunity to build a sober community, which is why it's important to choose a center with a culture that fits your interests and values. If you care about inclusivity and environmental initiatives, Oregon is the right place for you. Because of their passion for environmental conservation and the outdoors, many Oregonians are vegan or vegetarian—which means rehabs in the state are a great place for those with alternative diets. Oregon is also an ideal place for people in the LGBTQ+ community. In particular, Portland is a haven for people looking to find healing among other people who identify as LGBTQ+.
See more on LGBTQ+-affirming treatment here.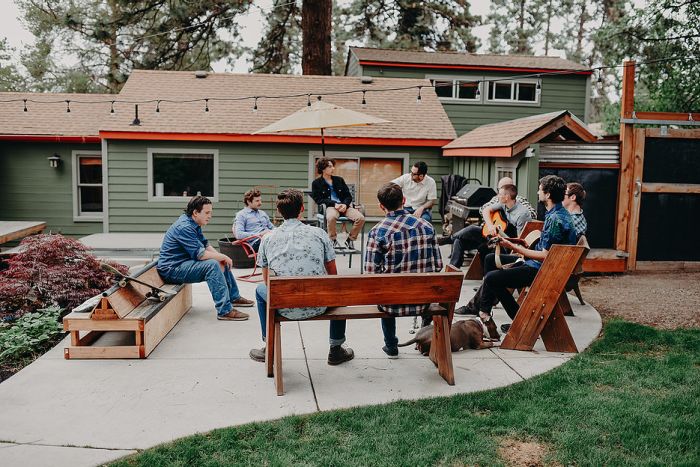 Rehab offers the opportunity not just to heal yourself, but also to learn how to relate to others more sustainably. To support that journey, many treatment centers in Oregon also offer family involvement and couple's counseling, to extend healing beyond the individual and into the greater community. These programs can make it easier to transition back home after your treatment is over.
Experiential Treatment
Most luxury rehabs in Oregon offer some form of experiential treatment, or learning by doing. This hands-on approach can be helpful for those who need a shift in their perspective, or are struggling to open up. According to the Hazelden Betty Ford Foundation, which has treatment center locations in Newburg and Beaverton, Oregon: "For those who have trouble expressing deep emotions or talking about painful times in their lives, experiential therapy can be a game-changer."5
In Oregon, experiential treatment often embraces the arts and culture of the region, as well as taking advantage of the beautiful natural surroundings. SLO Recovery Center offers hiking and other outdoor activities like rock climbing, kayaking, and fishing. They also take advantage of their urban locale, with social outings to nearby museums, theatres, and sporting events. These outings teach patients how to reframe their social lives without relying on substances. Additionally, SLO Recovery Center offers music therapy programs and community service work, where patients volunteer their time at homeless shelters and soup kitchens.
Skyline Recovery in Bend, Oregon builds "Wilderness Experiential Therapy" into their treatment model. As their website states: "Regular therapeutic work occurs in the wilderness where nature takes the place of words and healing occurs by doing and being rather than talking and processing." Participants are encouraged to process their feelings and experiences by taking on challenges in the wilderness—all under the guidance of certified counselors and support staff. These wilderness excursions take advantage of scientific research, which suggests that spending time in nature reduces rumination, and shift neural pathways associated with mental illness.6
From Ski Slopes to Art Museums: Activities and Attractions in the Beaver State
If you choose to start your healing journey in Oregon, there are many attractions that you might enjoy as part of your treatment program.
Portland, Oregon is home to abundant parks and gardens, including the world-famous Rose Garden, which is the reason why Portland is often called the "City of Roses." There's also the Japanese Garden in Washington Park, which offers a serene place to practice mindfulness exercises and enjoy quiet time in nature. Cultural attractions include the Portland Art Museum, the Northwest Film Center, and several theatres.
In more rural parts of the state, excursions will likely include natural landmarks. Mount Saint Helens, the famous volcano that erupted in 1980, is a popular destination for those who enjoy history, hiking, and even exploring lava tubes and caves. Other sites include Crater Lake, one of Oregon's seven wonders, the Columbia River Gorge, and Multnomah Falls, a gorgeous waterfall just outside Portland that's nearly 600 feet tall.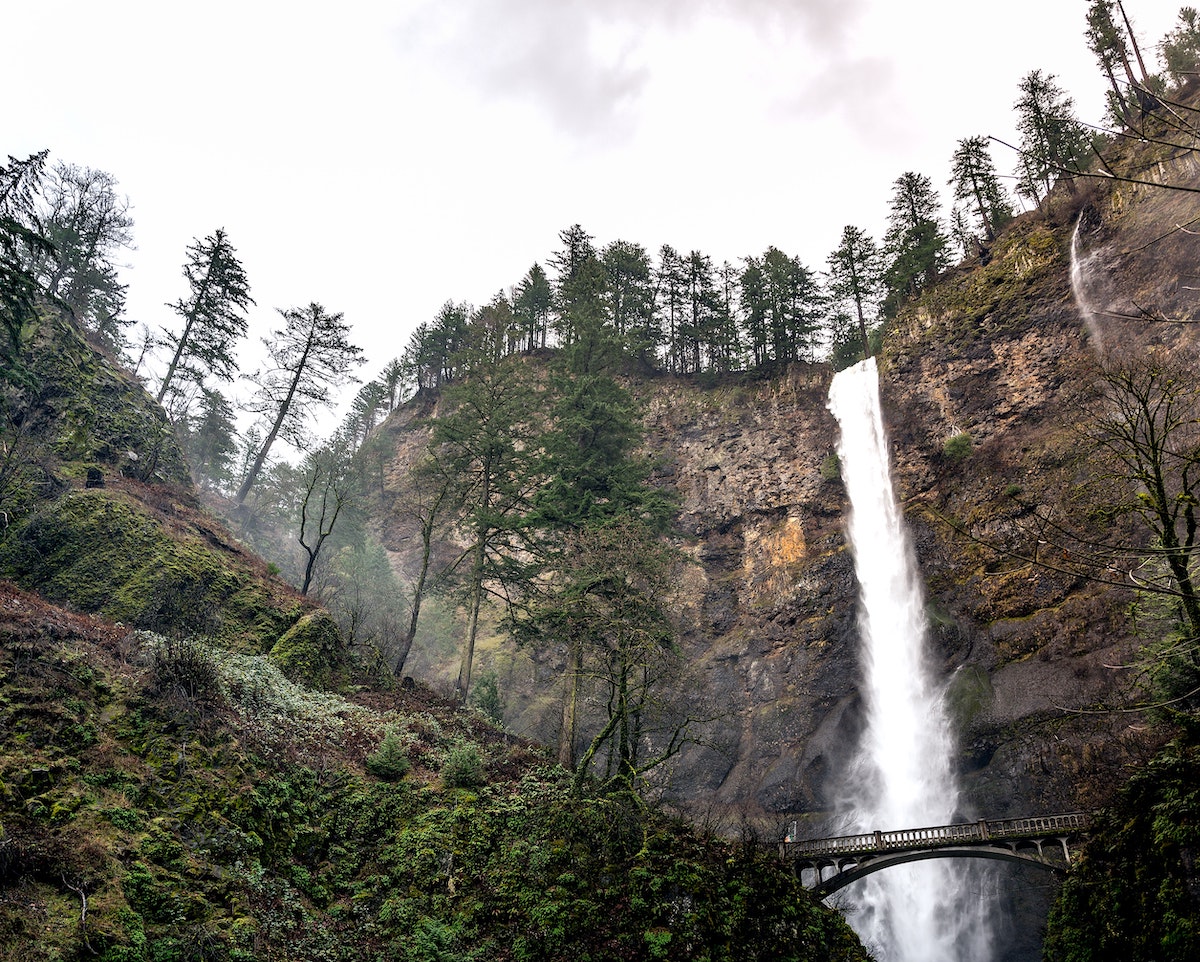 Though Oregon is often known for its hiking and camping, it's also a ski destination. Mount Hood and Mount Bachelor are both internationally recognized ski resorts, for those who enjoy winter recreation. Additionally, Oregon has dozens of healing hot springs, many of which have been operational since the early 1900s. Soaking in these hot springs can relax the body and facilitate healing.
Traveling to Oregon for Treatment
Oregon is a West Coast hub, and as such is easily accessible by plane. Portland International Airport (PDX) is the largest airport, located near downtown Portland. Rogue Valley International Airport in Medford also has many commercial flights daily, and serves the central and eastern parts of the state. Additionally, there are small commercial airports scattered throughout the state, including one in Eugene.
When traveling to a rehab center, you should make plans to ensure your safe arrival. Many rehab centers offer airport pickup and car services, which can be coordinated with the admissions office. Luxury treatment centers are also usually happy to connect you with a sober coach or companion who can travel with you from your destination. If you live nearby, you might also consider having a friend or family member drive you to the facility, or travel with you on a plane or train.
Oregon offers both urban and remote treatment options, and it's important to choose the environment that will best suit your needs. If you're looking to heal in a new city, Portland offers several rehab facilities that can support your goals. If you'd like to be closer to nature, Seaside or Bend might be more appealing. Regardless of the location you choose, most treatment centers in Oregon are within walking or driving distance from town, and close to awe-inspiring natural beauty. In fact, even at urban rehabs in Portland, greenery is abundant. In Oregon, you get the best of both worlds—making it an ideal location for people seeking a peaceful place to heal.
Find Peace in the Pacific Northwest
Oregon's peaceful forests and rocky beaches offer a scenic backdrop for healing the mind, body, and spirit. The gentle rain that showers the western part of the state may not be your ideal year-round climate, but it can be cleansing as you move away from old patterns, and toward a new, sober life. Beyond its natural beauty, Oregon offers a culture of acceptance, compassion, and trauma-informed care that facilitates recovery. You can be anyone in Oregon, and that open-minded culture will give you the space to reflect on who you really are—and who you want to become.
Breaking free of old, destructive habits is a huge challenge. But travel gives you the opportunity to get some space from ingrained patterns. In Oregon, you can build new communities, foster new relationships, and receive top-of-the-line support with a focus on holistic healing and outdoor exploration. If you're ready to make changes in your life, you may just find the support you need in Oregon.
To learn more about treatment opportunities, see our collection of luxury rehabs in Oregon.
---
Frequently Asked Questions About Oregon Luxury Rehabs
What makes Oregon luxury rehabs unique for addiction treatment?
Oregon luxury rehabs offer a unique healing experience by combining natural beauty with trauma-informed care. Patients can explore diverse landscapes, engage in outdoor activities, and experience the mental health benefits of exercise in the great outdoors. With a laidback and compassionate culture, Oregon provides a safe and supportive environment for embracing recovery.
What types of therapies and programs are offered at Oregon luxury rehabs?
Oregon luxury rehabs offer a range of therapies and programs to support recovery. These include mindfulness-based approaches, yoga, acupuncture, and guided meditation, which promote the mind-body connection. Experiential therapies, such as outdoor activities and music therapy, help patients shift their perspectives and learn new coping skills.
What attractions and activities can be enjoyed during treatment at Oregon luxury rehabs?
Oregon luxury rehabs provide opportunities to explore attractions and engage in various activities as part of the treatment program. Patients can visit parks, gardens, art museums, and theaters in Portland. Natural landmarks like Mount Saint Helens, Crater Lake, and Multnomah Falls offer opportunities for hiking, exploring, and learning about the state's history and culture. Hot springs and ski resorts add to the abundance of available healing experiences.