It's no secret that exercise makes you feel good. These positive feelings are thanks to endorphins released during and after physical activity. It can also be an important part of healing your body from the effects of addiction, trauma, and stress.
Recovery is all about building a sustainable, healthy routine, and exercise can help you get there. Because of this, many addiction and mental health rehabs focus on fitness, and have amenities to help you stay active during your care. 
Why Exercise is Good For You
Exercise helps physical and mental health,1 and can improve the following:
brain health
anxiety
depression
sleep
focus
confidence
One study found that "People who exercised had about 43% fewer days of poor mental health."2 
Exercise Lowers Stress Levels
Exercise reduces stress3 by lowering stress hormones like adrenaline and cortisol. Rhythmic activities like walking clear the mind, helping you relax naturally. 
Stress makes people more prone to relapse,4 so learning to manage it is crucial for recovery. A regular fitness routine decreases the likelihood of falling back into familiar coping patterns.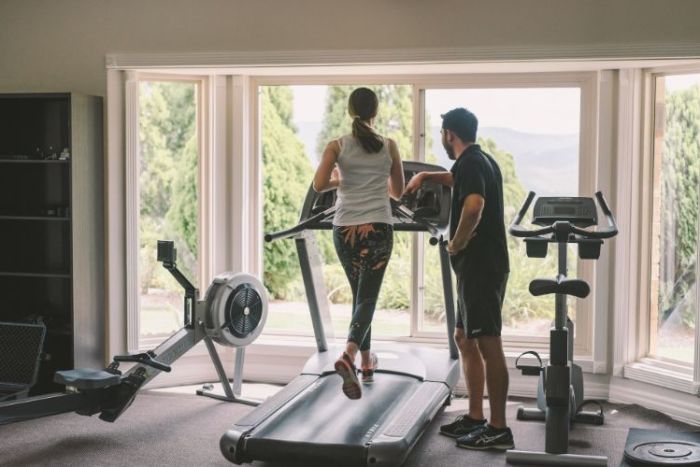 Physical Fitness Helps Treat Depression
Studies show that exercising is effective in treating depression.5 On the flip side, not exercising is a risk factor for developing depression. When you work out, your brain releases serotonin, a hormone that improves your mood. (Antidepressants relieve depression by increasing serotonin levels.)
Even just a few minutes of physical activity per day can make a big difference in your mood. One study compared people who exercised with those who didn't. Researchers found that 1.25 hours of walking per week lowered the risk of depression by 18%.6 This decreased by 25% with at least 2.5 hours per week.
Regular Exercise Reduces Anxiety
Research shows that physical activity is associated with less anxiety.7 It can help distract you from anxious thoughts. Instead, you'll focus on something positive, like finishing a workout or achieving a goal—even if that's just walking for 20 minutes. 
Exercise Improves Your Overall Well Being
By trying new activities and overcoming challenges, your confidence will increase.8 You'll start to feel better as your immunity, sleep, and energy levels improve. And your risk for disease and health complications goes down as your body repairs the damage caused by substances and prolonged stress. Drugs and alcohol aren't kind to your body, but the good news is that damage is usually not permanent. Exercise can be the first step in working towards better health—and a better outlook on life.
Exercise and Addiction
Studies show that exercise facilitates recovery from substance abuse9 in these ways:
decreases the likelihood of relapse
lessens drug-seeking behavior
reinforces positive change
People who exercise are less likely to use drugs.10 It's likely that its ability to reduce stress, and therefore regulate emotions, is a factor. You can see the effects in animal studies, too: opioid-dependent rats took morphine less often when they swam consistently.11 Rodents dependent on cocaine were less likely to use the drug when they had access to an exercise wheel.12 A fitness routine adds structure to your day, allows you to explore new interests, helps you build community, and even overcome addiction.
A New, Healthy Hobby
Physical activity can become a new way to spend time outside of substance abuse. It can even become a new hobby. You might realize that you love spending time at the gym or running outside. Or, you may return to an old interest: maybe you used to shoot hoops for hours or play volleyball every weekend with your friends.
Regardless of the role fitness has in your life, it's important to find activities you enjoy doing while sober. These can replace the time that you used to spend using drugs. Remember that recovery can—and should be—fun.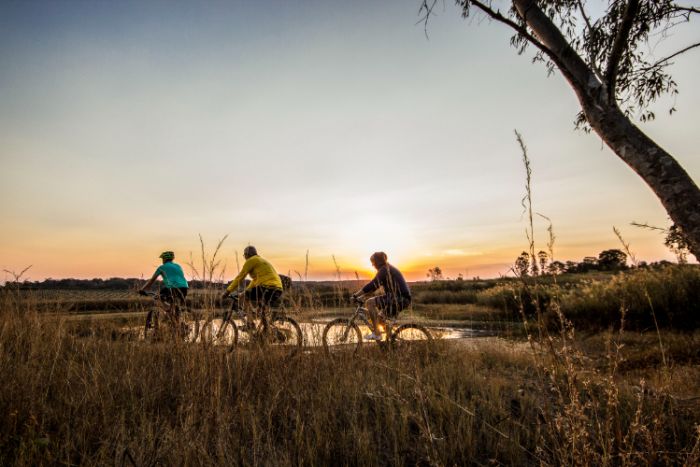 A Way to Meet Other Sober People
Physical fitness can give you a way to connect with new people, both in rehab and after you leave. During rehab, you can bond with people over similar interests in a specific activity, like rock climbing or dancing. These new relationships can be instrumental in your recovery process: it's important to have people to talk to when you're feeling down. It's especially helpful to surround yourself with others that have had similar experiences. They can empathize with, and truly understand, what you're going through.
Exercise Rewires Your Brain
Exercise releases dopamine in your brain. This hormone is responsible for "good" feelings, and can even have pleasurable effects similar to those you get from drugs. This is because exercise and substances activate some of the same reward pathways.
Exercise also prevents further brain damage from substance use13 and promotes cell regeneration. And forming a new habit can actually change your brain. "Neuroplasticity" is the brain's ability to create new connections. You can use this to your advantage by introducing exercise into your own routine. If you continue to exercise consistently in a way that's fun and sustainable, it can become a healthy habit that you genuinely enjoy. 
Luxury Rehab Fitness Amenities
You'll have an array of fitness options at different luxury facilities, from fun activities to personal trainers. Remember that it's important to choose something you like doing. Studies show that you're more likely to stick with an exercise routine14 if you enjoy it. So if you already love yoga, you can choose a center like Veritas Detox that offers classes. Or if you've always thought that boxing looked fun, you can check out a facility like SOBA New Jersey.
Gym Amenities
Many rehab facilities have fitness centers. At Sierra Tucson, clients can take advantage of their many fitness amenities. Soak up views of the Santa Catalina Mountains from their outdoor swimming pool or work out in the fully equipped gym. You can even learn how to rock climb on their indoor rock wall.
At Hollywood Hills Recovery, clients have access to a personal trainer, as well as group or private fitness classes.
Sports Opportunities
Social support is an important factor in sticking to an exercise routine.15 Team sports are a great way to foster new relationships. Futures Recovery Healthcare is an ideal facility for sports lovers. Challenge another client to a game of tennis, basketball, or volleyball on one of their many courts.
Rehab Facilities for Athletes
If you're an athlete, you may want (or need) to continue training while in treatment. All Points North's specialty program for athletes was created by professional athletes. Their center provides top-tier amenities to support your needs, like an indoor lap pool and personal trainer. 
At Soberman's Estate, clients work with fitness coach Carl Hargrave. Once an NFL coach, he now helps clients find healing through fitness and prepare for the "field of life."
Outdoor Activities
Recreating in nature provides many benefits—and some rehab facilities offer adventure therapy activities, like hiking and biking. For example, Lions Gate Recovery provides recreational outings to the nearby Zion National Park. Colorado is world-renowned for its outdoor opportunities, and All Points North Lodge in Vail is no exception. Clients can hike, paddleboard, or mountain bike in the summer, and go snowshoeing, snowboarding, or skiing in the winter.
Spending time in nature positively affects mental health.16 For example, researchers found that people who were outside for at least 2 hours per week had better overall well-being. This averages out to just 15 to 20 minutes per day. When you combine this with exercise, the effects are twofold: you reap the benefits from both physical activity and time in green spaces.
Find Joy on the Other Side of Healing
No matter your age or ability, even small amounts of exercise provide important mental and physical benefits. While physical activity is only part of your recovery journey, it plays an important role in maintaining a healthy lifestyle for years to come.
See our curated list of luxury rehabs with exercise programs to view fitness amenities, activity options, compare prices, and more.