When you go to rehab in New England, you'll have easy access to beautiful nature and cutting edge treatment. These programs offer access to the outdoors, metropolitan areas, and some of the best universities in the U.S. From the Berkshires to Boston, you can choose the setting that suits your needs. But you won't have to choose between a beautiful setting and top-notch care.  
At the Heart of Addiction Research
Rehabs in this region can connect their clients with some of the best research universities in the U.S.1 Many of these schools have renowned addiction research centers. Some of them also partner with nearby rehabs to offer clinical care.
For example, McLean Hospital is a Harvard Medical School affiliate in the suburbs of Boston. Their clinicians teach at the university, and pioneer state-of-the-art addiction treatments. In Connecticut, Yale New Haven Health and the Department of Psychiatry at Yale School of Medicine team up to run The Steward House at Silver Hill. In this executive rehab, you'll get treatment from Yale's renowned professors. 
Not every rehab in New England is connected to a research center. But clients throughout the region benefit from the cultural emphasis on evidence-based treatment. Brown University, in Providence, Rhode Island, is home to The New England Addiction Technology Transfer Center. And their mission is to make evidence-based treatment more available to local rehabs.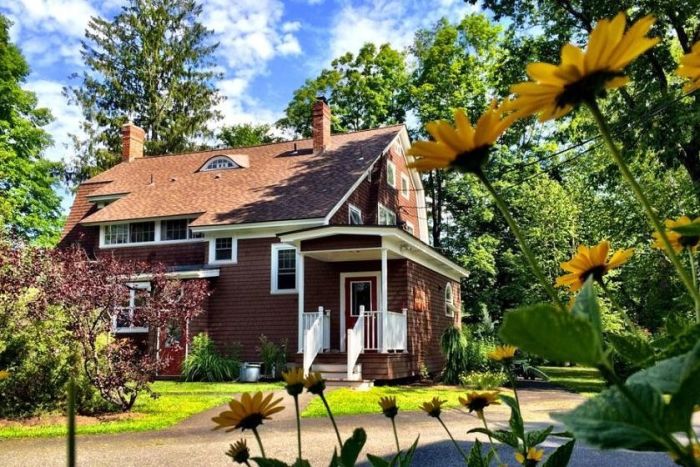 Year-Round Natural Beauty
New England is famous for its great thinkers, but there's more to recovery than research. This region combines academic prowess with beautiful natural scenery. Quinn Tremblay, Admissions Coordinator at McLean Fernside, says that going to rehab in New England can help you, "stay mindful and keep yourself in a serene mode."  
Experience the Best of All 4 Seasons
This area has 4 distinct seasons, and you can look forward to different activities in each of them. Summer in New England is warm with cooler nights.2 Clients at McLean Borden Cottage can enjoy the season by hiking, sailing, and spending time at the beach.
Autumn is especially popular in New England, thanks to its famous fall foliage. You could have a front-row seat to watch the leaves put on a show. Leaf peeping season starts as early as September in Maine and New Hampshire.
Winters are cold in this area, and the mountainous regions get a lot of snow. If you dislike harsh weather, this might be the wrong time of year for you to visit New England. But if you enjoy snow sports, it's perfect! In programs like Turnbridge, clients can go skiing and snowboarding during treatment. 
In the spring, the gray winter skies melt into a cheery blue. At Brattleboro Retreat, you can spend this season gardening. Watching a seed you've planted sprout and bloom can give you a sense of achievement. And at every time of year, spending time in nature can help you heal.
"Breathe a Little Easier" in New England's Rural Areas
New England is well-known for its natural beauty,3 with rocky shores, lush forests, rugged mountains, calm lakes, and flowing rivers. But what does that have to do with rehab?
Studies show that just having a view of nature from your room can improve your mental state.4 Starting treatment in a naturally beautiful place like New England can put you in the right mindset to focus on the hard work of recovery. 
Plus, being able to get away from the demands of urban life can give you space to heal. Katie, a former patient of Spring Lake Ranch in Vermont, explains that being in rural New England helped her recover. "As soon as I got up here, I felt like I could breathe a little easier. No more traffic, no more rushing, no more people everywhere. It was exactly what I needed."
And you can do more than just looking out of the window. For example, at Spruce Mountain Inn, in Plainfield, Vermont, patients can go hiking, rock climbing, skiing, and canoeing. And if these rural activities aren't for you, there are other ways to heal. Many of New England's rehabs are located in urban areas, if you'd prefer a less secluded treatment program. 
Stay Connected to Urban Life During Recovery
Rehabs in bigger cities offer some unique amenities. Because New England is home to Boston, Providence, and Hartford, as well as many rural areas, this beautiful region offers the best of both worlds.
As Dr. Frederick Goggans, the Medical Director at McLean Borden Cottage, puts it, "There's many amenities that you would have in more urban areas, but at the same time, you have that peacefulness and sanctuary setting, which is pretty rare in today's modern world." For example, rehabs in New England offer some of these interesting day trips:
These trips immerse clients in local culture. If you're from nearby, this might help you feel at ease. And if you're traveling for treatment, connecting with New England's unique spirit can give you important insight into your own values.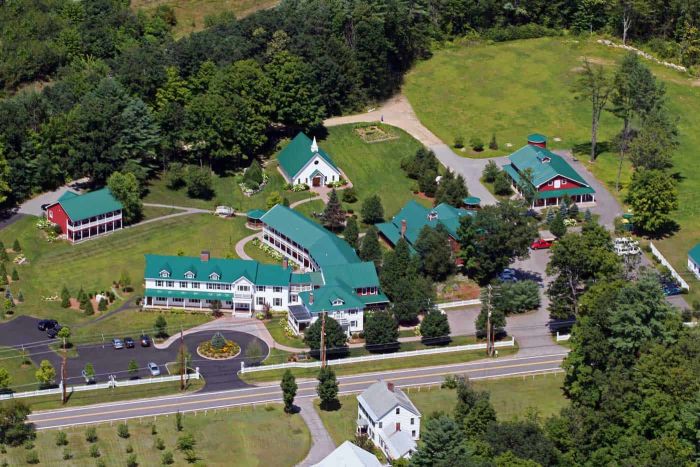 A Culture of Individuality 
New England gives you space to be yourself.5 Its people are known for being friendly, down-to-earth, and accepting. But they know how to respect boundaries. In one report on Vermont's culture, experts note that individuality is "at the heart of the character" of the region.6 
As a result, many local rehabs offer personalized treatment. This makes them a great fit for clients of certain demographics. If you're looking for an LGBTQ+ affirming rehab, for instance, Clearbrook Treatment Center might be a good fit. New England is also an excellent place to find rehab programs for executives. Whatever you're looking for, this open-minded region welcomes people with diverse backgrounds.
Traveling to New England
This region is easily accessible from all over the world. There are 14 airports in New England,7 spanning its 6 states. The biggest is Boston Logan International Airport, which serves more than 40 airlines traveling to over 100 destinations. You can also fly into a smaller airport like Bangor International for Maine rehabs, or T.F. Green International Airport for rehabs in Rhode Island. 
After you land, it's easy to get around New England by Amtrak. These trains connect the bigger cities, like Boston, New Haven, Burlington, and Providence. You can also take regional trains, Metro-North train in Connecticut, or the Massachusetts Bay Commuter Rail in Boston.  
Although it's easy to reach this area, it's better to travel with a support person. Starting rehab is a big decision, and the journey there can be hard. If you can, ask a friend or loved one to come along and help you with logistics. Or, you can ask your admissions team about other options. Some rehabs even offer complimentary pickups within a certain radius.
New England Offers Safety and Freedom
Early recovery is a tumultuous time. And that can make it hard to choose a treatment program. In New England, you can have the best of both worlds. Enjoy the tranquility of nature, and trust the knowledge of world-renowned researchers. Climb a mountain peak one day, and explore an urban center the next. These rehabs offer plenty of support, while you define what freedom means to you. 
Reach out to one of New England's luxury rehab centers to learn about their exact locations, amenities, and types of treatment.