Canada's highly accessible outdoor activities make it a great destination for adventure seekers. And it's not just fun—adventurous activities are also good for your mental health,4 especially when done in natural environments. According to research, these activities have several benefits:
Building Community During Recovery
Community is extremely important during the healing process. In his now-famous TED Talk, journalist Johann Hari says that "the opposite of addiction is connection."5 While Hari isn't a medical professional, he's definitely right about one thing: the people you surround yourself with can have a huge impact on your recovery.
The Social Model Program
The "social model" is an approach that emphasizes the importance of peer support in residential rehab.6 While many centers offer group therapy and support groups, it's less common for peer support to be the primary focus of residential rehab. The social model aims to bridge that gap. It prioritizes interpersonal relationships over individual treatment plans. Most social model recovery programs are founded on the same basic principles:
Residents both give and receive mutual support, relying on each other and not just trained caregivers.
A positive environment promotes abstinence from drug use.
12-Step or non-12-Step support groups provide a framework for the healing process.
Residents can learn from each other's knowledge and experience of recovery.
The Last Door, a rehab center for youth and adult males ages 13-30, utilizes the social model approach. In this program, expert providers "guide but do not drive the management process." This empowers clients to define what healing means for themselves. Peers play a crucial role in each other's learning, healing, and rehabilitation processes. Clients can also participate in the community through volunteerism and social outings. This focus on interpersonal skills not only helps you build new relationships; it can also help repair existing ones.
Healing Family Dynamics in Rehab
You're probably not the only person in your family who can benefit from therapy. Addiction can be difficult for loved ones, too, including parents, children, and partners. Family therapy teaches you how to handle conflicts in a healthy way. It can also help participants process trauma in a safe environment. Family members learn how to support each other and move forward with more sustainable, happier relationships. In many rehab programs, friends and chosen family can partake in this form of treatment.
Sue knew something was different about her husband, but wasn't sure what was causing his drastic change in behavior. Even after she learned about his cocaine addiction, it was a long and emotionally taxing 3 years before he agreed to seek help. Fortunately for both Sue and her husband, the Last Door offers programs for loved ones affected by addiction.
"I lost a part of who I was during that time," Sue says. But through a family group that she attended with her husband, and a support group just for partners, Sue found herself again. She acknowledges that both groups were instrumental in her personal healing process, and that of her marriage. "I was able to heal, and he was able to heal," she says. "You can move on and live life past addiction. That's one really important lesson that we've learned."
In family therapy, you and your loved ones can begin to repair your relationships—with each other, and with yourselves.
Canada Treatment Centers Focus on Aftercare
For most people, the healing process continues after rehab. Aftercare, also called continuing care, is an extremely important part of recovery.7 Research suggests that longer periods of aftercare result in a higher likelihood of abstinence from drug use, and sustained positive effects from treatment.
Many rehabs in Canada place an emphasis on continuing care, and provide ample resources for alumni. Aurora Recovery Centre in Manitoba helps each resident create a personalized strategy for continuing care at home.
Some clients aren't ready to go home right after treatment. If you need more support, Aurora Recovery Centre also offers stepped-down care following residential rehab. You can stay on their property in transitional housing, or move off-site to one of their partner sober living homes. These settings can help you slowly reacclimate to life outside rehab.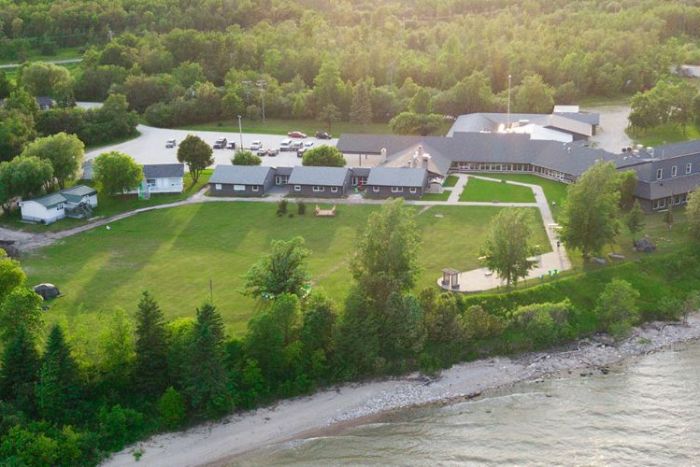 In our increasingly technological world, online aftercare is getting more and more popular. When you finish rehab at iRecover Addiction Treatment Centers, you'll get a tablet that comes pre-loaded with program content. Clients keep the device after finishing rehab, and can attend any of the 4 online, live 12-Step meetings that happen each day. You can also use your tablet to stay in touch with fellow participants after the program ends.
How to Get to Canada
Traveling to and within Canada is simple. From the U.S., you can just drive across the border, or fly into one of Canada's many airports. Because Canada is so large—by area, it's the second biggest country in the world—you may prefer to fly, even if you already live there.
To make travel less stressful, most treatment facilities offer transportation directly to and from the airport. However, it's important to check with your rehab's admissions team before making any plans. They can help you choose the best way to get to their facility.
Canada's Rehab Centers Utilize the Power of Nature to Aid in Healing
In Canada's treatment centers, you're never far from peaceful natural settings. That's true whether you choose a rehab deep in the forest or in the middle of a bustling city. With an emphasis on building community and robust aftercare, addiction treatment here can be the right fit for a great many people.
Ready to take that first step? See pricing and insurance information, center photos, reviews, and more and connect directly with rehabs via our directory of luxury rehabs in Canada.