Where you attend addiction treatment can have a huge impact on your progress. Yes, rehab is about getting sober—but it's also about learning how to improve your quality of life and sustain the changes you make long after you leave residential treatment. The setting you're in, the relationships you have with your peers, and the professionals who deliver your care all play an important role in supporting you through your recovery process and equipping you for life beyond it.
If you're traveling for treatment, the change of scenery that residential rehab offers can provide the space you need to focus on creating change. It can also give you a chance to experience joy and reconnect with yourself—without the need for drugs or alcohol.
If you're considering addiction treatment in Ontario, you're in the right place. We'll take a look at what the region has to offer treatment seekers, including the physical environment, activities, and professional support. We'll also provide a glimpse of a few rehabs' facilities, programming, and specializations.
Getting Oriented
15 times larger than the state of Texas, to say Ontario is large would be an understatement. The expansive province is bordered by Hudson Bay to the north, the Great Lakes to the south, Quebec to the east, and Manitoba to the west. Its Golden Horseshoe region, which stretches along Lake Ontario, includes Toronto and the Niagara Peninsula. Eastern Ontario hosts the nation's capital Ottawa and historic towns along the St. Lawrence River. Southwestern Ontario features bucolic countryside dotted with farms and small villages, not unlike the Midwestern U.S. The far reaches of the North are home to the Hudson Bay and the stretches of taiga forest that surround it.
Ontario's massive size means the province encompasses a diverse range of natural features, and offers myriad activities that rehabs weave into their treatment experiences. Those who are invigorated by untouched forests and soothed by serene lakes will have plenty of chances to connect with nature here.
Vibrant Cities and Expanses of Wilderness
Ontario is home to 40% of Canada's population, most of whom live in Toronto or Ottawa. It also boasts 250,000 lakes, including the Great Lakes, which it shares with the U.S. With the Hudson Bay to the north and the Great Lakes to the south, and great stretches of untouched wilderness in between, this province is home to a wealth of pristine waterways perfect for fishing, paddling, kayaking, and canoeing.
Canada's urban center, Toronto, is also located here. Vibrant and multicultural, the city is known for its diverse neighborhoods and exemplary planning. Ontario is also the seat of the nation's capital Ottawa, celebrated for its Victorian architecture and historic sites. For those who prefer urban convenience, both cities offer excellent restaurants, shopping, museums, and cultural institutions.
What to Expect From Ontario's Weather
Ontario has 4, distinct seasons. Because it's such an enormous province, weather can vary drastically depending on the season and location. Winters in the north of the province can be notoriously harsh, but most rehabs are located in the south near Toronto, where temperatures are comparatively mild. Buffered by Lake Ontario, Toronto ranks among the cities with the mildest winter climate in Canada.1 The lake's insulation also helps the area stay cooler in the summer.
While summer and winter temperatures in Ontario can tend towards extremes, spring and fall are more temperate. In any season, a little planning can help you stay comfortable. Like anywhere with frequent fluctuations in weather, layering is key. Rehab admissions staff are usually happy to provide a packing list and answer any questions you may have about what to bring.
For more information, see our article on packing for rehab.
Seasonal weather changes aren't just an inconvenience – they can also be a refreshing change for those who don't get to experience them often. Some parts of the province receive snow up to 6 months of the year—a special treat for those who love white winter landscapes. Ontario is one of the few places in the world where you can enjoy skiing in the winter and beaches in the summer.
Sights Worth Seeing
Like the rest of Canada, Ontario is home to outstanding provincial and national parks, which makes for some truly inspiring sightseeing:
Viewing Aboriginal rock carvings at Petroglyphs Provincial Park
Diving in Georgian Bay Islands National Park and the Fathom Five National Marine Park
Visiting lighthouses lining the coast of Lake Huron
Hiking through the old-growth forests of Temagami
Driving along historic Nipissing Road, part of the Trans Canada Trail
Visiting small historic towns and farms in the countryside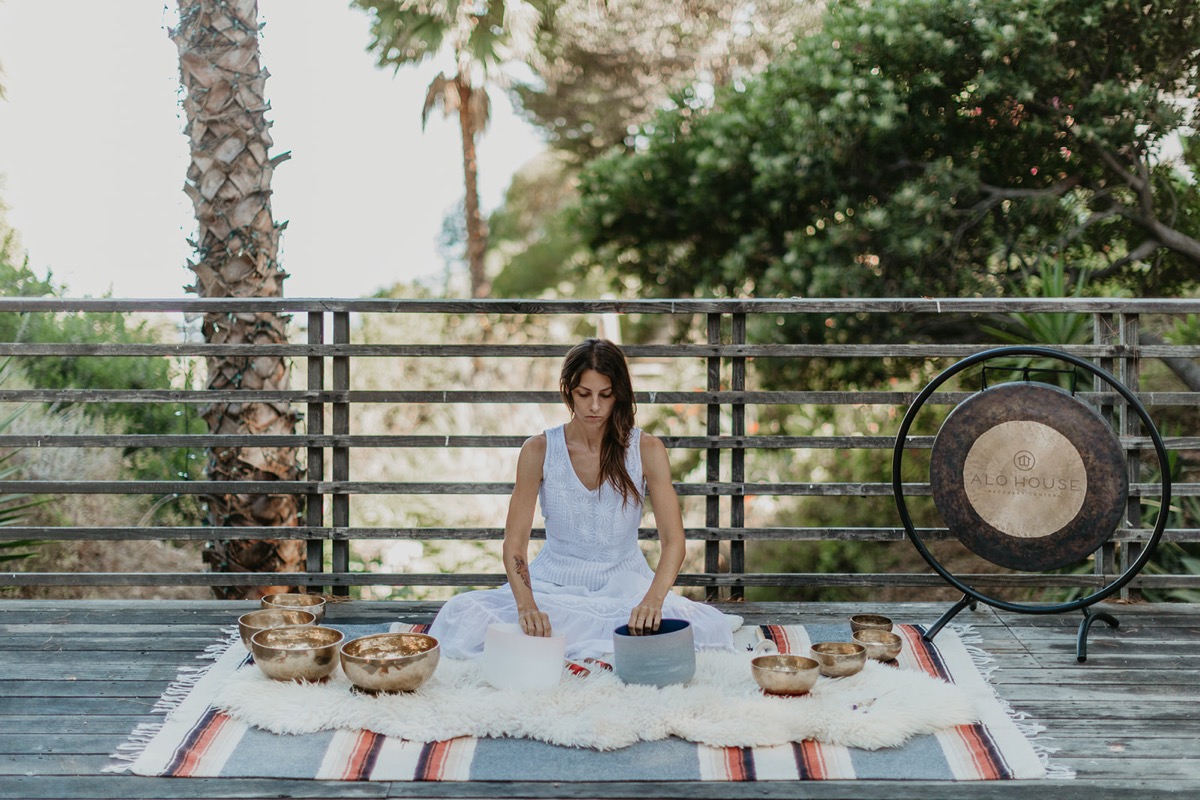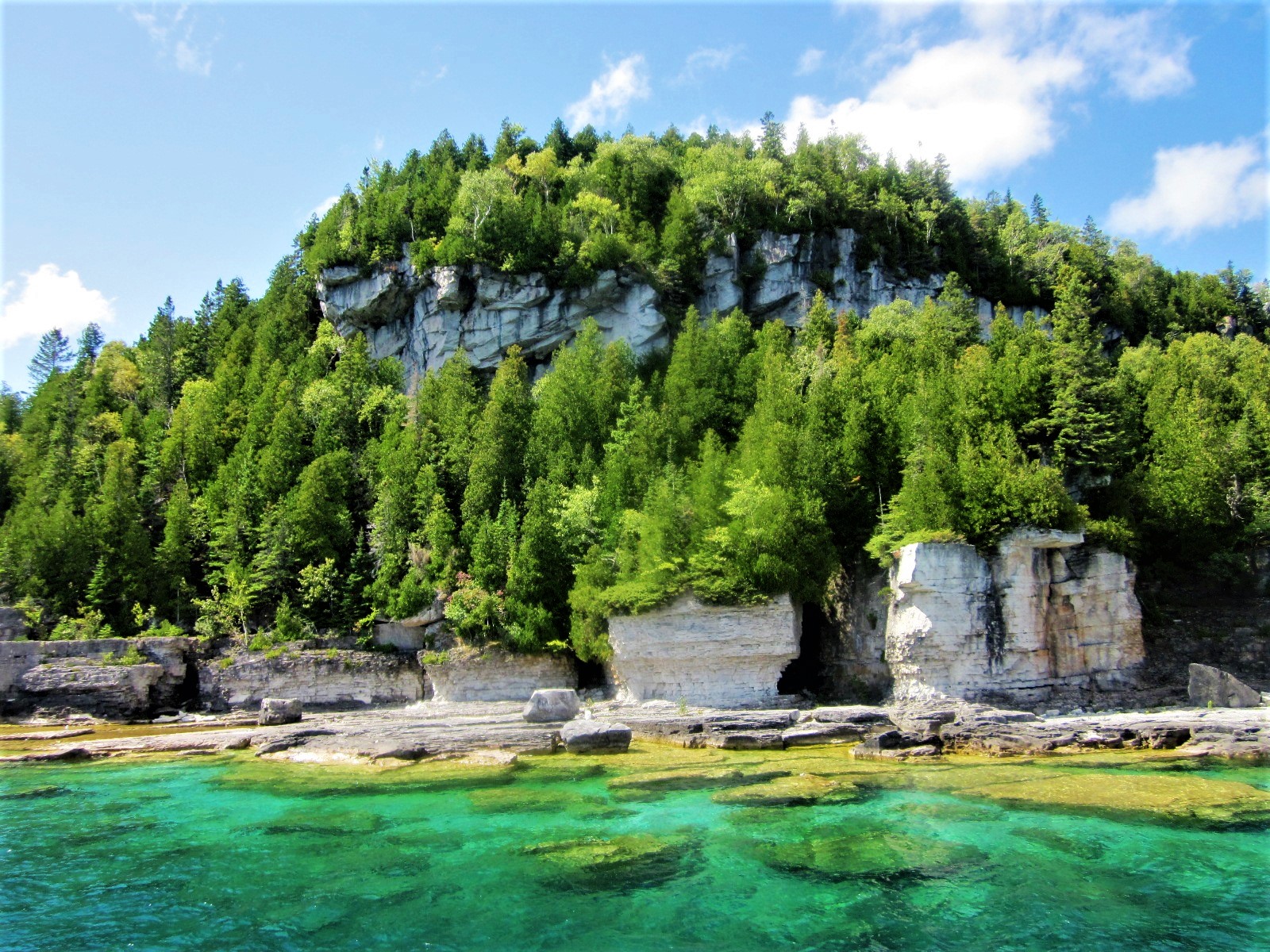 Ontario offers outdoor activities for those who find inspiration in physical challenge, as well as peaceful natural beauty to calm the mind. Luxury rehabs here typically offer the best of both worlds, with lakeside locations fit for relaxation and introspection, and adventure outings to satisfy clients' needs for excitement and fun.
Therapeutic Outdoor Activities in the Land of a Thousand Lakes
Ontario has no shortage of activities for any season. In summer, Ontarians enjoy fishing, canoeing and kayaking on glassy lakes and hiking through boreal forests. Winter is ideal for world-class skiing and snowboarding, snowmobiling, and outdoor ice skating. And any time of year, visitors can see some of Canada's best museums and galleries, like Dundurn Castle and the Royal Ontario Museum.
Immersion in nature and culture doesn't just make rehab more pleasant (though comfort can also be an important part of your treatment experience). It can also be therapeutic. Research shows that cultivating awe is good for mental health.2 It helps us find humility, keep things in perspective, and take our problems less seriously by seeing ourselves as a small part of a much bigger picture. And connecting with nature – especially as grandiose as that of Ontario – is a great way to tap into that feeling.
A Culture Conducive to Healing
Home to lively, multicultural Toronto, Ontario is diverse and socially progressive. The province is known for its friendly people, love of the arts, and welcoming attitude towards immigrants which enriches its cultural tapestry. Canada in general also ranks high for its standard of living and general safety, and that sense of security can be hugely helpful for those in trauma recovery.
Ontario cities consistently rank among the best places to live and work3 in the world. This basis of well-being shows up in the way people here interact with each other – and care for those who come here for treatment.
Luxury Rehab Programs in Ontario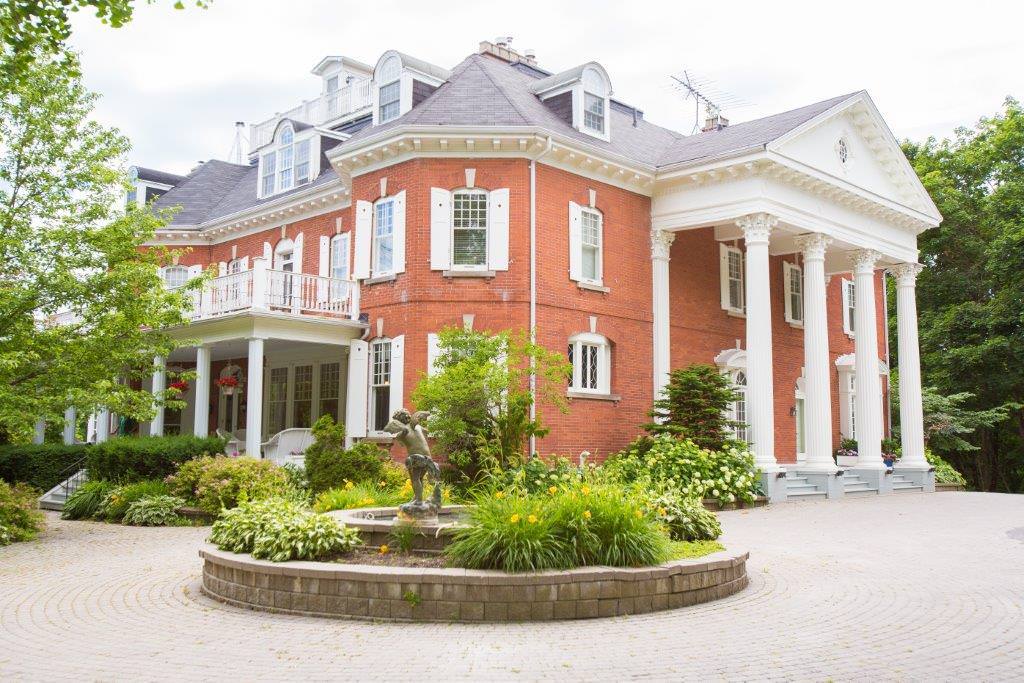 Located on 110 acres of farmland just north of Toronto, Centres for Health and Healing offers a holistic, non-12-Step treatment approach and a variety of water activities. Delivered via personalized treatment plans, their wellness program places a strong focus on mindfulness—a philosophy they refer to as "Mindful Mental Health." The center offers specialized treatments such as a sublocade medication-assisted therapy (MAT) program, as well as medical detox and a weekly family program.
Treatment takes place in a lakefront luxury home surrounded by sprawling lawns and woods, equipped with an indoor swimming pool and fireplaces. Guests can use recreational equipment on the lake and outdoor leisure areas.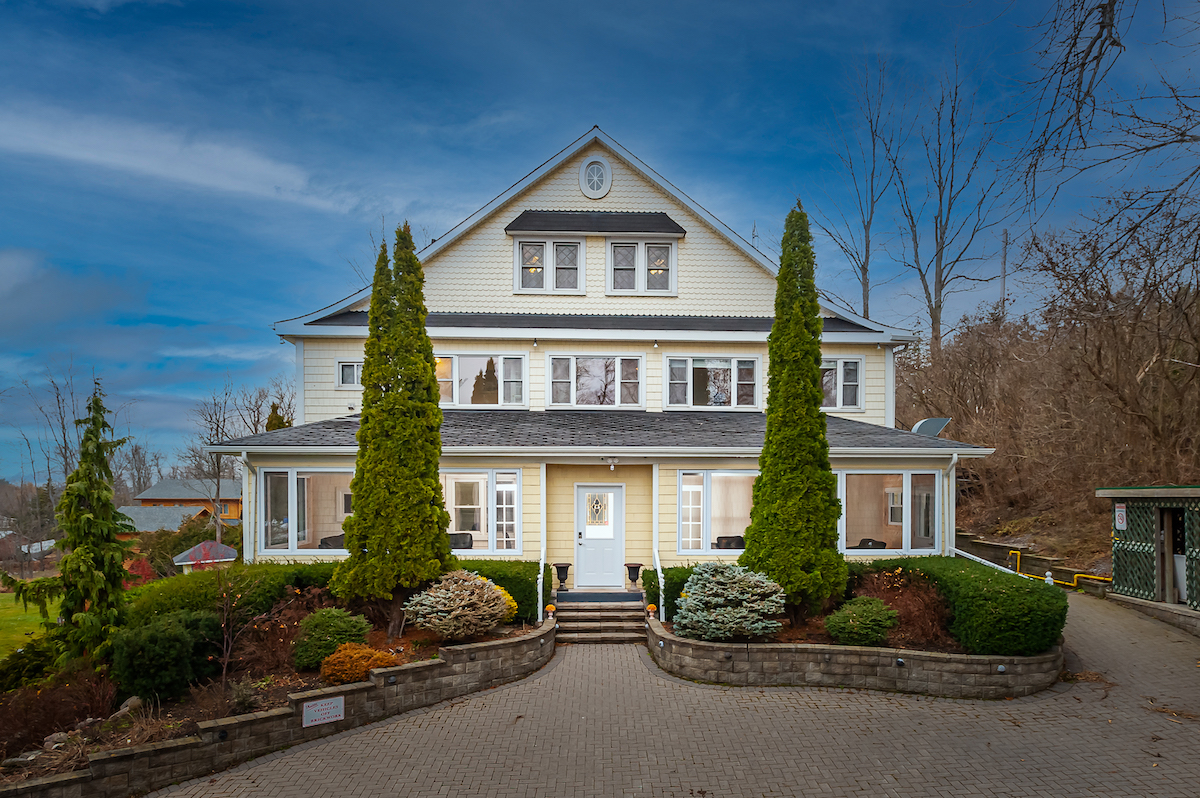 Situated on Rice Lake an hour east of Toronto, Victoria Wellness offers evidence-based, trauma-informed addiction and mental health treatment, including treatment for co-occurring disorders. This center also offers ketamine-assisted psychotherapy (KAP) via a partnership with ketamine treatment provider Ketamine One. Clients are guided through an individual treatment plan by their primary therapist, and complementary therapies include holistic practices like yoga and Reiki. The program also emphasizes recovery-focused nutrition.
"At Victoria Wellness, we offer meal plans that reflect your personal values and are rich in antioxidants, vitamins, healthy fats and probiotics, which are linked to improved mental health. Our offerings are organically and locally sourced whenever possible."
The center's culinary team can accommodate vegetarian, vegan, gluten-free, and dairy-free diets.
Clients here enjoy boating, fishing, kayaking, and paddle boarding on the lake, as well as amenities like an outdoor pool and a labyrinth for meditative walks. Offsite activities include visiting animals on a working farm in the countryside, guided hikes, skiing, horseback riding, and golf.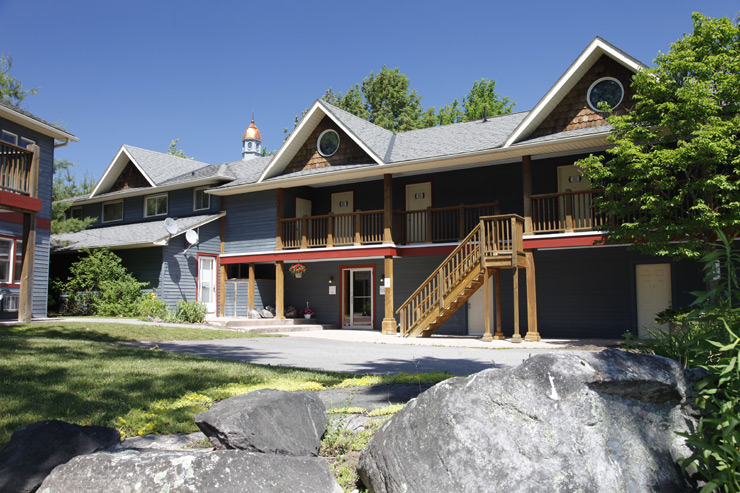 With a range of services from detox to residential care, Muskoka Recovery's program is based on 6 core values of caring, excellence, respect, accessibility, innovation and integrity, and includes unlimited 1-on-1 counseling. The team pays special attention to helping clients plan for relapse prevention and reintegrate into their community.
"We believe community plays an important role in the recovery process. We can help clients with resume preparation, find housing and connect you with potential employers."
Muskoka Recovery's main center is located on over 100 acres of forested property outside Toronto. Clients can choose from locations in Muskoka, King City, Toronto, and Bracebridge.
Rehab Staff and Treatment Professionals
Canada has a highly educated population4 and a renowned healthcare system. Luxury rehabs in Ontario are staffed by a variety of addiction and mental health treatment professionals:
Clinical Professionals
Psychiatrists
Psychologists
Social workers
Addiction Specialists
Addiction counselors
Recovery coaches
Dual diagnosis specialists
Interventionists
Complementary Therapists
Eco-therapists
Energy healers
Massage therapists
Yoga instructors
Support Staff
Chefs
Nutritionists
General support workers
Rehabs—especially those with on-site medical detox—may also staff medical professionals such as addiction-specialized doctors and nurses.
Learn more: Rehab Staff Qualifications
Finding Your Community in Rehab
Recovery is a personal journey, but it's also largely reliant on the support of those who see you through your challenges and encourage your new lifestyle. The bonds you form with your peers in residential treatment can form an important part of your support network. You'll get to share your struggles, learn from those of others, and feel less alone in your struggles. Rehab is also a safe space to practice new ways of relating to others, which you can then apply to heal your relationships in your life outside of rehab.
Ontario rehabs can be a great place to connect with others on their healing journey who value open-mindedness and love the great outdoors. And if your facility's program includes online aftercare or has an alumni network, you'll have even more opportunities to stay connected when you return home.
Arriving in Ontario
Many of Ontario's luxury rehabs are located near Toronto. While this makes it easy to get to treatment, the Toronto metro area still encompasses large swaths of wilderness, meaning you can enjoy access to the region's lakes and forests without sacrificing the convenience of the city. Toronto's international airport is a major hub, offering direct flights from around the country as well as connections to the U.S. and abroad. Rehab admissions team members are usually happy to help you arrange travel.
If you're interested in looking further into treatment here, visit our collection of Ontario rehabs to see reviews, take virtual tours, and more.
---
Frequently Asked Questions About Rehab in Ontario
What types of addiction treatment programs are available in Ontario?
Ontario offers a range of addiction treatment programs including residential rehab, outpatient programs, detoxification programs, and aftercare support. Some rehabs have specialized programs, such as medication-assisted therapy (MAT) and ketamine-assisted psychotherapy (KAP) programs.
What should I expect during addiction treatment in Ontario?
During addiction treatment in Ontario, you can expect to start with a thorough assessment. This lays the foundation for your treatment plan, which often includes individual and group therapy sessions, complementary therapies, recovery activities like skiing, relapse prevention strategies, and ongoing support. The focus is on empowering individuals to achieve long-term sobriety.
What qualifications and credentials should I look for in an addiction treatment center in Ontario?
When choosing an addiction treatment center in Ontario, it's advised to consider facilities that are licensed, accredited, and staffed with qualified professionals. Look for rehab staff credentials such as certified addiction counselors, licensed therapists, and addiction-specialized medical professionals. Treatment team information is often listed on a center's website.